HOME > Corporate
Messages from Shuji Yamaguchi as chairman and Seiichi Shiota as president..

Our vision of the management as CGS. 

Our detailed corporate profile.

Our detailed organization chart.

History of CGS and the predecessor companies.

How to get to CGS headquarters and branches.

List of our group companies and their information.

Our policy of corporate governance, the code of conduct, and the information addressee when the possibly-illegal acts are detected.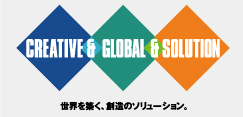 Develop the world with creative solutions.
In the sophisticated and diversified mold making industry, C&G Systems attempts to locate every customer's needs/challenges, and also to provide an accurate and flexible solution that caters to customers' expectation.
As the largest mold solution maker in Japan, we will develop "the optimal solution" of mold manufacturing globally and transform ourselves into a leading company to provide our customers with full satisfaction.