HOME > Investor Relations > To Investor
We thank you all, our valued shareholders, for your exceptional support.
Increase in Income and Profit

In spite of the tough market conditions caused by the earthquake disaster and the strong yen, as well as the ongoing company reorganization and the business outflow to overseas contries in the dies and molds industry where our main clients operate their business, our group's consolidated financial results for the year 2011 showed steady growth in the Chubu area, where the capital investment was active in some regions, and in Korea, Thailand, and other regions in the overseas division where the sale of CAM system products was active. Meanwhile, in the dies and molds manufacturing division, our sales were up 40% in dollars compared with the previous year. As a result, our group achieved an increase in income and returned to profit in the year 2011.
Progress of "CG Series" Sale

"CG Series", the new product series of the CAD/CAM system, was released in April 2011, and we promoted its sale and support system and kept finding sales distributors throughout the year. As a result, in the domestic division numerous major trading companies agreed to use our sales network and launched the new series, and we vigorously promoted joint events and other related activities. Meanwhile, in the overseas division, we concluded agency contracts with four sales distributors in the Asian region by the beginning of March 2012; and we further plan to conclude contracts with two more distributors in June. As for this year's agenda, we are considering such business operations as the provision of the business education and sales support to our sales distributors, the functional enhancement of "CG Series", and the further expansion of sales distributors to increase our overseas sales share.
Expected Implementation of Annual Liquidating Distribution of 5 yen

Due to our slump in business, no dividend had been paid for the past three years. However, we managed to return to profit in the year 2011, and we believe this state is not a temporary one, but one that promises our continuous recording of profit hereafter. Holding up the payment of a stable dividend as our basic policy, we set its baseline at 10 yen per year once. However, with the damage from the recent natural disaster and the current tough market situation, our business prospects are uncertain. Taking such circumstances into consideration, we resolved to introduce a new annual estimated dividend of 5 yen per year for the year 2012. Furthermore, to ensure the reinforcement of the management system and the speedup of decision-making, we decided to appoint two representative directors as of March 2012. We earnestly ask you, our valued shareholders, for your continuing understanding and support.

Shuji Yamaguchi
Chairman
President, C&G SYSTEMS INC.
Seiichi Shiota
President
C&G SYSTEMS INC.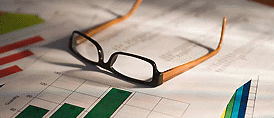 We will provide information in timely, accurate, fair and comprehensible manners.
We intend to make disclosures to earn and maintain the trust of the stockholders, investors, customers and society. This kind of disclosure is conducted for an appropriate assessment of share prices and the appropriate stock price information.
Therefore, we intend to respond in honest and sincere manners for IR activities, and our basic approach is to provide the policy information, strategy and financial situation in a timely, appropriate, fair and comprehensible manners.("Disclosure Policy")