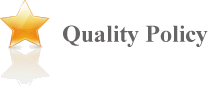 Our most important concept focuses "Customer's satisfaction and comfort". We utilize the management resources effectively to ensure the further development, we created the following quality policy.
Our company observes applicable laws and regulations. Our firm goal to contribute to the world-class manufacturing is to continuously provide originality and ingenuity to challenge the limitation of productivity and working software development and sales in the FA field.



As we strive to strengthen the quality management system, our company adapts the ISO management system standard and works to improve efficiency by continuous reformation.



We ensure the further development by implementing the quality management system effectively to focus on contributing to the customer's prosperity.



To achieve the highest quality goals, all our employees take ownership by becoming educated and familiarized with the company quality policy.



Our company maintains the operation of quality management system that is consistent with our quality policy. It will be continuously be reviewed for applicability and amended accordingly at which, the adjustment work and revision will be applied.




Revision Date: Oct.15th 2018
Establishment Date: Mar.4th 2008
C&G SYSTEMS INC.

Contents of Certification
Original Approval
January 9th,2010
Scope
Software development, Production, and Sales in FA business
Standards
ISO 9001:2015 & JIS Q 9001:2015
Body
European Quality Assurance
Certificate No.
QA080595
Original Approval
November 20th,2018
Scope
Software development, Production, and Sales in FA business
Standards
ISO/IEC 27001:2013 & JIS Q27001:2014
Body
European Quality Assurance
Certificate No.
IA180299