Mission Statement
We challenge the limit of the productivity.
Philosophy
We will contribute to the development of manufacturing (monozukuri in Japanese) in the world as a CAD/CAM solution maker, representing the technology-oriented nation, Japan.


Basic Stance
1. We will give first priority to our customers' satisfaction and reliance.
2. We will aim to make full use of our business resources in order to achieve   sustained development.
3. We will go on acting with conviction and hope as well as with all our smiles.
4. We will attempt to brew our corporate culture so that it will nurture enriched creativity among us and let us share the joy of working.


About Our Logo
| | |
| --- | --- |
| | Our logo shown left consists of the initials, 'C,' 'G,' and 'S,' standing for Creative, Global, and Solution respectively.  The design forms a rectangle extending from left to right, which expresses stability with its colors implying the sky, the sea, nature, and the sun, all of which relate to the earth and environments. They are increasingly more often dealt with in society and in our field. We believe that this motif brings about youthfulness and strength. |
About Our Corporate Slogan
Creative & Global & Solution

We put up "Creative & Global & Solution" as our corporate slogan.  We will provide our users with the optimized solutions for each of their manufacturing processes for mold and die.  The slogan design shown left represents "strength and reliability" graphically with strong ties between "C: Creative" and "G: Global" and "S: Solution" offered by our company, whose logo also consists of the three.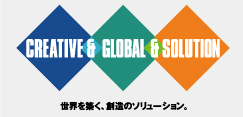 Develop the world with creative solutions.
In the sophisticated and diversified mold making industry, C&G Systems attempts to locate every customer's needs/challenges, and also to provide an accurate and flexible solution that caters to customers' expectation.
As the largest mold solution maker in Japan, we will develop "the optimal solution" of mold manufacturing globally and transform ourselves into a leading company to provide our customers with full satisfaction.