HOME > Corporate > Corporate Governance > Compliance Hotline
We set up "Compliance hotline," as the information addressee.
Should any employee and vendor within our group' find that our director(s) and employee(s) possibly attempt illegal acts, please use this hotline to notify us. We will immediately investigate in order to confirm the facts and deal with them.
Those who can use this hotline area
all the people who are involved in our group's business (full-time workers, workers on commission, temporary staff, part-time workers, directors, employees of vendors, and so on. )
The Way to Inform

In principle, a person who uses this hotline should offer a real name and contact the following addressee so that the feedback of investigations and their countermeasures can be duly notified. We prepare several ways to send information - by mail, e-mail, or sending the following contact from.

Information addressee (1)
Address for mail

C&G SYSTEMS INC.
Compliance hotline team

Tennoz Central Tower 19th floor, 2-2-24 Higashi-shinagawa, Shinagawa-ku, Tokyo 140-0002 Japan

E-mail address
hotline@cgsys.co.jp
Information format
Please click here.

Information addressee (2)
TEL
SHIMADA HAMBA & OSAJIMA
Attorneys at law
Keiko Mikuriya / Naoya Maeda

+81-3-3217-5110

(From 9 a.m. to 5 p.m. during weekdays)

| | |
| --- | --- |
| | To view these PDF files, you need to have Adobe Reader installed on your computer. If you do not have Adobe Reader installed, you may visit Adobe's web site to download the program, which is free. |

Actions after Receiving Information
After investigations, if the Compliance Hotline team should detect illegal acts caused by directors and employees belonging to our group, the Compliance Hotline team will report them to our board meeting and take corrective actions. To the informant, Compliance hotline team will give the feedback of the result.
Protection of Informants

We protect the privacy of the informant(s), keep confidential the information and the contents except to the Compliance Hotline team and its relevant members.
Informants won't suffer any possible loss by revealing information.
However, it is not applicable to cases that the information related to false or, mental abuse for a particular person, or for other unfair aims.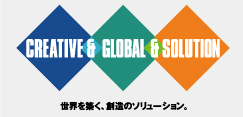 Develop the world with creative solutions.
In the sophisticated and diversified mold making industry, C&G Systems attempts to locate every customer's needs/challenges, and also to provide an accurate and flexible solution that caters to customers' expectation.
As the largest mold solution maker in Japan, we will develop "the optimal solution" of mold manufacturing globally and transform ourselves into a leading company to provide our customers with full satisfaction.