Nov 1978
SEIBU SUOU CO.,LTD. founded by Shuji Yamaguchi C.E.O. Began R & D and sales of the company's own CAD/CAM software enabling the process of production to become more cost-effective and to be expanded in its capacity to at its best, while serving mainly large-scale die manufacturing industries.
Sep 1982
Began sales of ACE-I(2D CAD/CAM system software for progressive press die designing).
Apr 1983
SEIBU SUOU CO.,LTD. renamed as COMPUTER ENGINEERING INC.
Oct 1983
Began marketing PCAD(CAD system software for mold die designing for mini computers).
May 1984
Established Tokyo Office.
Sep 1984
Developed CAD/CAM systems for combination die designing.
May 1985
Began overseas sales (first to Korea).
Dec 1985
Established Osaka Office.
Dec 1985
Head Office building completed.
Dec 1986
Began sales of EXCESS series.
Aug 1987
stablished Nagoya Office.
May 1988
Began sales of EXCESS series at UNIX version.
Mar 1990
Received "Excellent Company in Kitakyushu-city".
Sep 1991
GLOBAL COMPUTER ENGINEERING CO.,LTD. founded as a joint company with GLOBAL ELECTRONICS CO.,LTD., Korea.
Apr 1992
Owners Award given to Shuji Yamaguchi C.E.O. by Kyushu-Yamaguchi Economic Contribution Consortium.
Oct 1994
Began sales of EXCESS series at EWS version.
Sep 1995
TAM CO. absorbed into COMPUTER ENGINEERING INC. for combining forces of their 3D CAM with our technology to create new 3D CAD/CAM software packages.
Apr 1996
Began sales of NeoMeister (3D CAD/CAM System Software).
Jul 1997
Began sales of NeoSolid (Unified 3D CAD/CAM System Software). 
Oct 1997
Began sales of TAM-BOY/NT system (3D Auto-Programming System Software).
Jan 1999
Began sales of EXCESS-PLUS at WINDOWS version (2D CAD/CAM System Software for Die Designing).
Jan 1999
Began sales of NeoSolid.Mold (Supporting Module for 3D Mold Die Designing).
Jun 2000
Established Technical Call Center.
Jul 2001
Began sales of NeoSolid.Press (Supporting Module for 3D Progressive Press Die Designing).
Dec 2003
Began sales of NeoSolid.CAM-EX.
Dec 2004
Began sales of EXCESS-Evolution.
Dec 2004
Began sales of AIQ (Activity Industrial Quality) for more efficiency in the manufacturing flow - from actual use of CAD/CAM systems to business ends of planning, calculating and managing the entire process of die production.
May 2006
Small and Medium Enterprise Agency of Ministry of Economy, Trade and Industry selected COMPUTER ENGINEERING INC. as one of the three-hundred most active companies nationwide.
Jul 2006
Awarded by the Japan External Trade Organization (JETRO).
Jul 2007
Established a joint holding company, Alpha Holdings Inc. with GRAPHIC PRODUCTS INC.
Jan 2009
Established Shanghai Office.

Jan 2010

Merged with C&G SYSTEMS INC.

History of C&G SYSTEMS INC. >>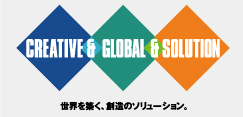 Develop the world with creative solutions.
In the sophisticated and diversified mold making industry, C&G Systems attempts to locate every customer's needs/challenges, and also to provide an accurate and flexible solution that caters to customers' expectation.
As the largest mold solution maker in Japan, we will develop "the optimal solution" of mold manufacturing globally and transform ourselves into a leading company to provide our customers with full satisfaction.