HOME > Corporate > Corporate Governance > Code of Conduct
We set up our "Code of Conduct,"
as rules to work while observing laws and company contracts.
1. Social Responsibility
1) Contribution to Society
 We will contribute to the development of our society as faithful corporate citizens.

2) Compliance with Laws, Corporate Ethics, and Respect for Culture and Customs
 We will conduct our businesses, complying with laws and corporate ethics as well as respecting the culture and customs of local countries and areas where we are operating. And we will also follow the dictates of common sense.

3) Policy for Donation to Politicians or to Public Organizations
 If we are donating to politicians or to public organizations, we will comply with relating laws and regulations. We will be careful never to be suspected of attempting to have dubious relationships with authorities; we will keep good and wholesome relationships with politicians and public organizations.

4) Disconnection from Antisocial Organizations
 We pledge not to have any relation with antisocial organization; we pledge to maintain a resolute attitude toward antisocial activities. We will retain fundamentally decent attitudes toward laws, common sense, and strong sense of justice.

5) Preservation of Environment
 We recognize the importance of preserving natural environments when we are conducting business. We pledge to comply with every regulation for environmental preservation.

6) Compliance with Export and Import regulations
 We will comply with export and import regulations sincerely in conducting cross-border trade; we will never export or import any materials prohibited by laws.
2. Relation with Customers, Vendors, and Competitors
1) Safety of Our Products
 Our first priority in our business is the safety of our products. We will produce, manufacture, sell, and maintain our products with the greatest care. Should we find any problems affecting the safety of our products, we will promptly communicate with relating sections, and identify the problems. If we succeed in identifying the problems, we will immediately take appropriate actions to remedy the problems.
2) Compliance with Anti-trust Regulations
 We will comply with anti-trust regulations in conducting business; we will maintain free and fair competition under any circumstances; we will never form a ring; we will never abuse our dominant positions to vendors; we will never maintain resale prices unfairly.
3) Fair Trade with Vendors
 We will contract and trade with vendors fairly; we will never give specific vendors preferential treatment unfairly; we will never delay payments to customers; we will comply with every law and regulation for the protection of subcontractors.
4) Respect for the Property of Others
 We will respect and never abuse others' trade secrets and personal data; we will never violate others' intellectual property such as patents, copyrights, trademarks, design rights, and know-how rights.
5) Policy for Business Entertainment
 When we are entertaining customers or accepting entertainment, we will never go beyond the social norms. We will never entertain or donate to the officers or the employees of the government including its agents.
3. Relation with Stockholders and Investors
1) Disclosure of Financial Information
 We will disclose our financial information, such as financial situation and operating results, to stockholders and investors timely and appropriately; we will clearly report our management policy and business plans; we will sincerely accept their critical opinions.
2) Prohibition of Insider Trading
 We will never misuse undisclosed information of our group and of customers known to us in the course of business in order to gain by investment in the interest of the corporation or of ourselves.
4. Relation with Employees
1) Respect for Human Rights and Prohibition of Discrimination
 We respect human rights of all individuals and eliminate discrimination. We will never tolerate any sexual or other kinds of harassments regardless of explicitness ; we will make our best efforts to prevent such harassments. 
2) Protection of Employee Privacy
 We will never leak any personal data of employees known to us in the course of business to outsiders. We will use such information for business purpose only and place it under strict control. 
3) Safety and Hygiene in Working Environment
 We will comply with regulations for safety and hygiene in working environment and for accident prevention; we will improve our working environment for every person; we will make our best efforts to prevent industrial accidents. 
4) Improvement of Working Environment
 We will comply with labor laws; we will pay careful attention to health maintenance of employees; we will strive to maintain secure and healthy working environment.
5. Relation with Corporation and its Property
1) Responsibility for Sincere and Honest Operation
 We recognize the importance of corporate regulations and poly and will comply with them; we realize our responsibility for sincere and honest operations.
2) Appropriate Accounting and Tax Management
 We will comply with accounting principles and taxation regulations; we will strive to establish effective internal control system.
3) Prohibition of Transactions Causing Conflicts of Interest
 We will distinguish between public and private activities; we will sincerely operate our tasks; we will never create conflicts of interest inside our group.
4) Management of Business Secret
 We recognize the importance of business secret known to us in the course of business; we strictly and appropriately protect the business secret. If we needed to disclose any secret to outsiders, we will exchange non-disclosure agreement or other appropriate contract in order to avoid leaking the secret to the other party.
5) Protection of Intellectual Property
 We realize that the intellectual property such as patents, copyrights, trademarks, design rights, and know-how rights know to us in the course of research, development and other activities are significant assets of the corporation; we will utilize the property effectively and protect the rights.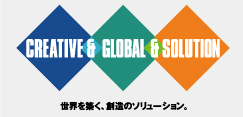 Develop the world with creative solutions.
In the sophisticated and diversified mold making industry, C&G Systems attempts to locate every customer's needs/challenges, and also to provide an accurate and flexible solution that caters to customers' expectation.
As the largest mold solution maker in Japan, we will develop "the optimal solution" of mold manufacturing globally and transform ourselves into a leading company to provide our customers with full satisfaction.